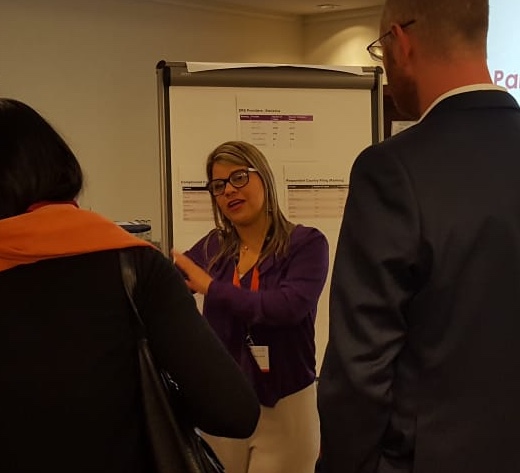 Mission
Our Mission is to be the most attractive and effective option to solve different types of Intellectual Property Rights infringements on the Internet, through Alternative Dispute Resolution (ADR) methods.
Especially, IPRs On-line is well committed to introduce you and take you through the reliable experience of the Uniform Domain Name Dispute Resolution Policy (the UDRP and/or any of its Variations), as the most effective mechanism to solve Cybersquatting cases.
ADR methods, as Mediation and Arbitration are pivotal in terms of costs and time for successful businesses and negotiations.
Through its Academic Activities, IPRs On-line looks to make comprehensible the deep value of Intangible Assets in the daily life, and its possible relation to ADR methods, as out-of-court solutions.
Vision
IPRs On-line's Vision, is to be the space of reference for effective, reliable and fast solutions, to the world, in Domain Names & On-line Trademarks matters through ADR methods.
IPRs On-line seeks to be "that special place" dedicated to teach, learn and grow about the magnificence and endless power of IP Assets in us, in a community, a location, a country and the World.
María Alejandra (Alex) López García is a Corporate lawyer, researcher and advocate for intellectual property rights, with experience in private and public sector at national and international level. Graduated from Santa María University (USM – 1994 – Caracas, Venezuela). Intellectual Property Specialist from Metropolitana University (UNIMET – 2004/2006 – Caracas, Venezuela). LL.M. in Industrial, Intellectual Property and Information Society Law from Alicante University (UA – 2006/2007 – Alicante, Spain). Member of the Winner team of the EIPIN 8th Congress 2006-2007, Moot Court case Viacom vs. YouTube, as Alicante´s University representative.
Between 2007 and 2011, she was part of the Legal Staff of the WIPO Arbitration and Mediation Center (Geneva, Switzerland), serving as the first Venezuelan Case Manager of more than 500 UDRP and ccTLDs for domain name dispute resolution cases. She contributed in the implementation process of the WIPO Center as a Dispute Resolution Service Provider for different ccTLDs in Latin America (.BO, .CR, .DO, HN, .PE).  In 2010 she performed as a speaker for the students of the Adolfo Ibañez of Chile University. Between 2015-2017 she performed as an Expert of the Latin America IPR Helpdesk.
When she returned to Venezuela, she worked with a well-recognized Civil and Commercial Law Trial Attorney Rubén López Villa, as a consultant on Intellectual Property and Commercial Law matters at López Villa & Asociados (2012-2015).
Before to create IPRs On-line (2017), Alex worked as a Senior Associate and Intellectual Property Specialist at GR Lex Américas S.C. (2015-2017), where she was on charge of all the English communications, processes and management of trademark portfolios including UDRP proceedings [read below], with associates across United States, Europe and Latin America. Additionally, she was on charge of the management of the "Domain Names and Intellectual Property Workshop" (Caracas – 2016). 
Alex is an active and enthusiastic participant of IP Meetings (e.g.: INTA), Workshops (e.g.: WIPO) and Tailored Seminars (e.g.: Chambers of Commerce). 
Alex speaks Spanish and is fluent in English and French.  She also has basic knowledge of German.
Cybersquatting
Through the Uniform Domain Name Dispute Resolution Policy (UDRP) or any UDRP Variation, we analyze and solve at a reasonable fee, Cybersquatting conflicts.
The mechanism of the UDRP has been rated as the most effective in terms of time and costs for trademark holders, from there, it is vital to understand the benefits of this extraordinary tool in favor of creativity, genuine commerce and consistent effort.
Monitoring
Do you know what is happening with your Trademark on the Internet? 
With the arrival of +1200 new gTLDs, the Trademark Monitoring on the Internet is pivotal. 
IPRs On-line, detects and analyzes the presence of Cybersquatting cases on Internet.  
But what are these new gTLDs? or specifically which are these ones? IPRs On-line is ready to take you through them.
IP Infringements
IPRs On-line detects other type of online infringements, providing the opportunity to "see" what is happening with your Intellectual Property Assets on Internet.
Through a tailored detection of different types of IP infringements as Online Marketplaces, Mobile Apps, Social Media, Fake Websites and Cybersquatting (Domain Names), we provide accurate support to keep and add value to your Assets. 
IP Walk
To be on Internet is important and you know it, but do you want to understand more about it and why?
IPRs On-line is here to walk with you, the entire process of:
 Understanding who are you as an IP Asset.
 Which are your most relevant IP Assets?
What do you need to protect? Why? and Where?
Do you need to register a domain name? or to buy a new one? If so, a  gTLD or a ccTLD?
Do you need a Website? If so, who can develope a Website who makes you feel satisfy?
IPRs On-line is committed to take you for an IP Walk, and share with you Who and Where are you in the IP Universe.
TMCH
With the arrival of the New gTLDs, to protect your trademark online is pivotal. It is more relevant than ever!
Do you know that more than half of these New gTLDs run with open registration policies so that anyone can register a new domain name without restriction?  Yes, hundreds of New gTLDs are part of the most significant expansion of the domain name system ever.
If you are a brand owner, you need to react and adapt strategies to be ready for this rapidly growing TLD landscape.
Through the use of the Trademark Clearinghouse, as the one-stop-solution for protecting your brand, you will be the first one to know!
IP Training
One of the most important aspects in a Company, is to know how to manage your own IP Assets. IPRs On-line offers you Tailored IP Seminars & Training for Companies around the world.
But what do we seek with these activities?  Answering questions as: 
Is there a department dedicated to Intellectual Property inside my Company? Who is currently managing your assets?
 Which is the accurate status of these assets?
If you have created a new product or process, how can it be protected?  How many assets are involved?
 If you are considering a license agreement, before a possible dispute, are you incluidng any ADR Method?
IPRs online considers specific needs of your Company for each Seminar or Training.
Our IP multidisciplinary team, establishes different types of alliances and/or agreements in order to generate growth, mutual benefit and an optimal version of the project or Intangible Assets represented by IPRs On-line.
IPRs On-line collaborates with different Companies, providing accurate and effective solutions to their Domain Name conflicts.